Diary of an Australian in Bristol
September 1st, 2007
First some good news, for those of you who haven't already heard - Judy has a new job!! I have been awarded a Ramsay Memorial Fellowship, a two year fellowship to work in Chemistry at Bristol University (same department as Stuart). The project will be a combination of experimental and numerical modelling work on thin film ceramic materials, with an industrial partner based in Paris (gee, that's tough luck...). While my time at the University of Bath has been a great professional experience, the new position has the considerable advantage of a commuting time of about 15 minutes (down from 1.5 hours at Bath!). So I'm really thrilled and looking forward to starting - the position doesn't start until October, so at the moment I am enjoying some time relaxing, as well as finishing things off at Bath. I have also been adding to my list of new experiences during my break by working as a volunteer at the Bristol science museum (At-Bristol), which has involved a range of activities, but in particular involved working full-time for a week at an engineering summer school for high school students, an interesting and fun experience. Stuart is plodding along at work quite happily...
The last time we wrote we were just back from the Easter long weekend on the Isle of Anglesey (just off the north-west coast of Wales). We had a great time there, walking along the coast, watching sea birds, enjoying the first sunshine for the year and making the most of our Welsh Heritage membership (four castles and one abbey in five days - I told you there was no shortage of castles in Wales!).

We then had a few weeks in Australia for Judy's graduation and it was great to catch up with lots of you while we were there. The graduation itself was a really lovely day and a nice opportunity to celebrate the end of the PhD with friends and family.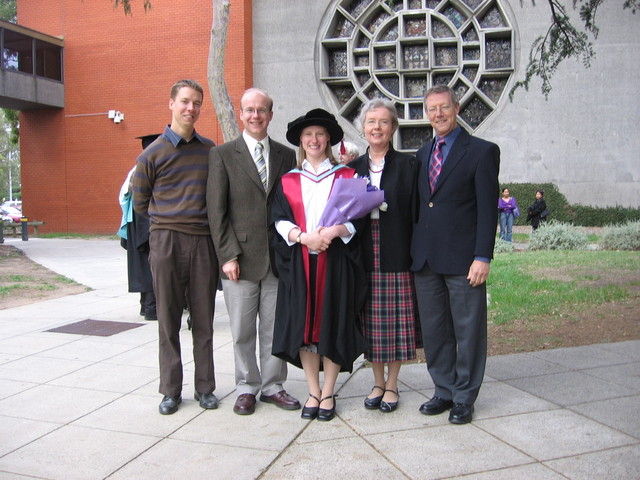 June and July were fairly quiet for us, with Stuart spending a week in the USA for work and the summer weather failing us (it rained and was generally cold and miserable, so we spent most of our weekends sitting on the couch drinking tea). We did manage a weekend in Gloucester in July, when Stuart's choir went there to do a concert in Gloucester Cathedral. Judy saw the sights of Gloucester while Stuart was rehearsing and then we had a lovely day walking in the Cotswolds. Most of the area where we spent that weekend was underwater a few weeks later when it flooded...
The weather finally picked up in August and we had a lovely weekend walking in Dartmoor (south coast of Devon). We found Dartmoor to be a spectacular, wild part of England, with great walking across the moors and spectacular views both across the moorland and down to the surrounding oh-so-very-English-rolling-green countryside. We came home safely without encountering the Hound of the Baskervilles...
Our main break for the summer was a week in Switzerland, spent exploring Neuchatel and the rural area around Lake Neuchatel, catching up with friends in Zurich and exploring the Alps. It was really great to see Mel and Aran settled into their new home in Baden (just outside Zurich) and they took us for a great walk in the mountains in glorious weather. Our visit coincided with the Baden Festival, a rather major event held every ten years - this made our visit a little chaotic, but was a great chance to experience Swiss culture. The few days we spent staying in the Alps was great - arriving at our hotel by cable car was a new experience and the view of the mountains from our hotel room was spectacular. We did some great walking, despite some poor weather (during which we discovered that the Swiss Alps can look remarkably similar to the views we have had in Scotland and Wales!), and particularly enjoyed seeing many alpine flowers. We discovered many more of the cows that really do have bells around their necks that we found in Austria last year, filling the mountain air with their ringing, as well as, of course, lots of good cheese and chocolate!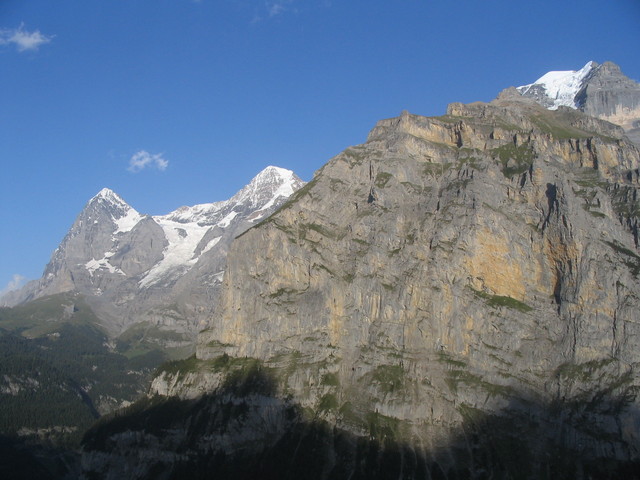 Other recent activities have included trips to the theatre in London (Swan Lake and an excellent performance of Cosi Fan Tutte at the Royal Opera House), more theatre in Bath (an enjoyable evening of comedy with Tony Robinson of "Black Adder") and enjoying the benefits of living on the second floor at the top of a big hill - we managed to stay dry while most of our surrounds were underwater in July and had a great view of hot air balloons and fireworks from our bedroom window during the Bristol Balloon Fiesta. The Balloon Feista was significantly more successful than last year, with three out of four days having mass balloon launches. Kaylene came to stay with us for the festival again and actually saw some balloons this time! The morning launches were great to see (although they did involve an early morning sleepy stumble from the bed to the bedroom window) - the balloons barely moved in the still morning air, so there were about 100 balloons gathered together, hovering over the Somerset countryside. We went down to the festival site one evening and had a lovely extended picnic and watched about 70 balloons launch and stayed into the evening for the Night Glow (5MB) (a very tacky but fun event where they tether a whole lot of balloons to the ground and then light the flames in time to music to make patterns) and fireworks.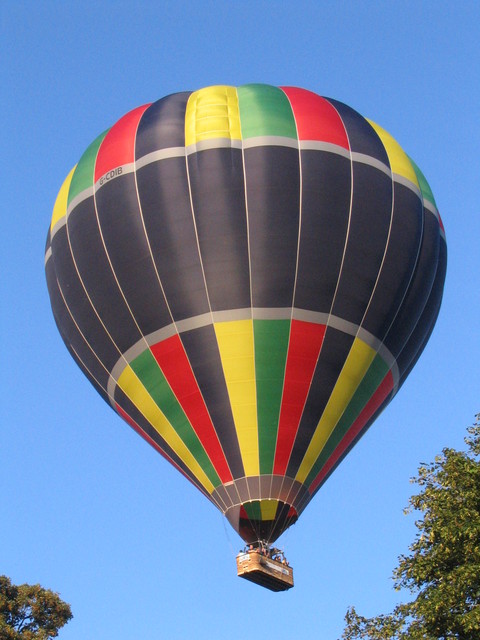 September is shaping up as a busy and exciting month; Stuart's mum will be in Bristol and we are all going to the south of France for ten days to do lots of sight-seeing and enjoy lots of good wine!